Flotilla of Lights 2020 – update
It is with great sadness that the LCA has decided to postpone the 2020 edition of the Canal Warming and the Flotilla of Lights.
It is impossible for us to predict the evolution of the actual Pandemic and the whole weekend is a social event that would put many people at risk of being in close proximity of each other.
The other factors that have been influencing our decision are as follow;
-Maintenance program of the Falkirk Wheel being undertaken during at the time of the Flotilla which would have limited greatly the presence of boats from the Forth & Clyde to the event (we are hopeful that SC will finally consider it in their next year maintenance program scheduling),
-Recent breach on the Union Canal which ultimately prevents any boats from the F&C to take part in the event, hence having a reduced number of boats for the event,
-Dramatic Weed and silt situation on the Union Canal which could create a very chaotic flotilla. We are very aware that those issues could create mechanical damage to the boats and we wouldn't want to place any boats at risk of getting engines damage (as it already started to happen last year for a couple of boats…).
-Despite a few keen and enthusiastic boaters, very few boats had registered interest in taking part in this year's event and this is most likely because of the above-mentioned issues…
So, for all those reasons, we have decided to postpone this years' event and we are at the moment considering to hold this event in spring of 2021.
We are very sorry if this comes as a disappointment but we would rather do a good event instead of doing a makeshift of one.
We can only hope that you will understand our decision and that you will keep your energy for the spring event!
Take care and stay safe…
The LCA team
Flotilla of Lights 2020
As you may know, a recent email invited you and the rest of the boating Community, family and friends to gather for the traditional bonfire and the flotilla of lights at the end of November but the response to this invitation has been very mild so far.
That been said, some usual enthusiasts responded right away to the invitation and said they would join the fun, with or without boat and it is awesome.
We are very aware of the ever changing rules about social distancing and the difficulty that restrictions could bring to such social event so we are taking the approach of planning for the best and expecting the worst…
We can only hope that those distancing rules will be eased in 3 months time but this isn't in our control and we will play it by ear when we come closer to the date.
Worst case scenario we will postpone the event and wait for an easing of the social distancing rules.
I managed to convince my son to write a few lines to describe the Flotilla and possibliy convince a few more to join the event so here are his words;
——————————
The flotilla of lights is an immersive experience where you may watch a cavalry of beautiful boats pass you in style, because each boat is fitted with colourful lights, ribbons and more which look spectacular at night.
I was very lucky to be on the lead boat of the flotilla, and I could see everything that was going on as we entered Edinburgh. There were people clapping to the guitarist that was playing live on top of the lead boat "wow" and there were people on the path who had brought a lantern with them which meant we would throw them free sweeties!
‐‐——————-‐-‐‐—‐-
There you go then.
If that doesn't sell the flotilla to you, then I don't know what would!?
Boat owners (who have their boats already on the Union Canal), it would be great to make this flotilla a with a decent number of boats so please let us know if you are planning on joining the weekend.
Please note that there will be a gathering in Edinburgh after the Flotilla so that we can all be together to close off the event on saturday evening.
Hoping to hear from a few more…
Pierre
Flotilla round up
I have the pleasure to say that last weekend was a great success…!!
Despite several last minute cancellations, the turnout of boats was really good (16 boats at the Canal warming on Friday and 15 boats who sailed to Edinburgh on saturday…).
Friday evening was awesome as we had some fine weather. The evening went very well.
A lot of live music was being played (accordion, drums…) and it was really sweet.
As usual, the bonfire was big, the Fireworks were in large volume and the display was worth the view (I was told…).
The mood was so good that many didn't see the time go and only slept for a few hours!
-Just a wee reminder that the LCA funded the charcoal for the BBQ as well as the Fireworks-
Saturday morning, a few "not very fresh" faces took on to clean up the Bonfire site and the result was impressive!
We delivered an imaculate site after an intense hour of cleaning.
Well done to all involved!
As the Flotilla was heading towards Edinburgh, the rain started to fall and a welcome lunchbreak took place at Bridge 10 (just before the City Bypass).
We then continued our way towards Edinburgh and despite going through some horrendeous weather and the fact that many boats suffered from overheating because of going through a lot silt, "most" boats survived the flotilla and the arrival in Edinburgh was wonderful…
As we arrived (right on time) at Harrison Park, the rain finally eased and the boats provided a beautiful display to the crowds.
I was really suprised to see so many people by the Canal considering the bad weather and it was a joy to see the kids waving their lanterns.
There were hundreds of people waiting for us and it was heartwarming to see that.
The families and the kids were very excited…(expecially the kids who had a big grin, knowing the sweets were coming!) As well, many windows were decorated with candles and it was really nice to see.
I already received many thanks for organising this (and it is much
appreciated) but a Bonfire and a Flotilla with 1 folk and 1 boat wouldn't work…
THANK YOU SO MUCH to every boat, skipper, crew, and friends who have rallied to this event and spent some of their time, energy and made the effort to be there…you are the ones who made it what it was! WELL DONE YOU!!!
I would love to thank the following people; -All of you who came along (one way or another) to support the event, -The boaters who had to travel a long distance and pass several locks and the Falkirk Wheel to join the party (Ropatiro is holding the distance record as he came from Cadder before Glasgow…!) -Yvan, Ken, Tony for coming setting up the Gazebos on Thursday afternoon in Edinburgh .
-Eric, Marie-eve, Ken for helping setting the bonfire site, -Morag, Yvan, Christine, Marie-eve,, Ken, Paul, Aidan, Malo for cleaning the Bonfire, -Andy and Charlie for their assistance in setting the lights at Harrison Park, lending the 2 Gazebos for Friday evening and helping assemble them!
-Carol Bell (SC) and the wonderful Volunteers who worked hard to build the Bonfire on Friday morning…
-My sister (Marie-eve) who came from France just for the weekend and who played tirelessly of her accordion during the weekend!
-The Volunteers of Re-Union who prepared soups for Friday and Saturday!
-Richard Millar (SC) who contributed to the boats passage throught the wheel before and after the event and who pushed in the background to make the Flotilla happen, -Billy (SC) who arranged for getting the Leamington Lift bridge opened for us on Saturday evening, -Young David (SC) who came along to help us on a Saturday evening, -James (Re-Union) for having manned the Lift bridge on Sunday to let the boats trapped in the Basin to escape.
-…really sorry if I have omitted anybody!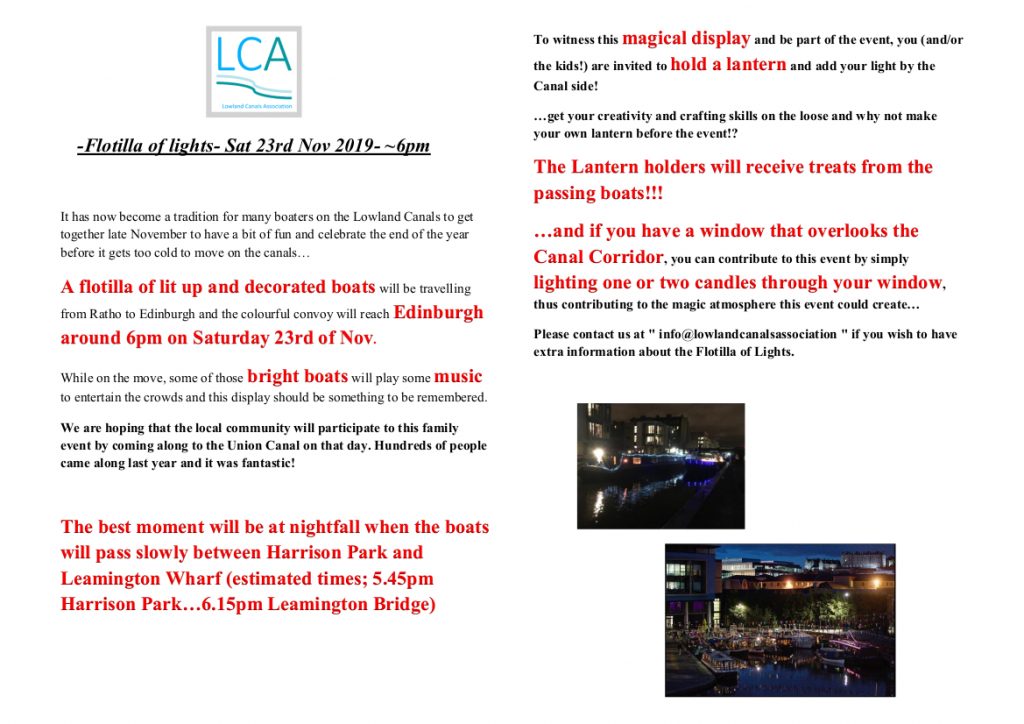 Community Moorings Scotland
It's just a few days until Community Mooring Scotland's next gathering at Narrowboat Farm, Linlithgow, EH49 6QY. This year we've added some kid-friendly elements in the morning in case you want to come with wee ones and don't want them to get bored. We've got three exciting boat skills workshops lined up as well as other fun stuff which will be going on.
The event is obviously open to all boaters and enthusiasts on the canals, but also friends of boaters and prospective canal enthusiasts too. So feel free to spread the word, it really is the more the merrier.
We have lots of covered space so don't worry if the weather is poor, the event will go on and there will be lots of cosy spaces to hang out with your fellow boaters. Following the timetabled elements, the BBQ will be running and we'll set off the bonfire at dusk. You are welcome to bring a camper or tent if you wish to stay over and enjoy the evening frivolities. There are moorings, parking, power, water, compost toilet and a shower available. There's currently space for another 5 boats on the bank so obviously if you feel like coming by boat please do!!!
The timetable for the day: Saturday 21st September 2019
10am – Welcome and intro to the day
10am – 12pm alternative workshop for kids: make your own mini farm to take home with Iain, facepainting and storytelling with Seppi
10:15 – workshop 1: Splicing ropes and knots with Chrisy (bring your own three strand mooring or fender line)
11am – workshop 2: The basics of onboard power systems with Pierre
12pm – Community Moorings Scotland update (BBQ sparks up)
12:30 – 2pm: BBQ (we'll supply the BBQ and charcoals, please bring your own food/drink) and open forum for boaters to raise issues/ask questions
2pm – workshop 3: Community Moorings plans for building landing stages with Jonathan
3pm onwards – BBQ, bonfire, hot tub, music, good times
CANAL CARNIVAL & FLOTILLA UPDATE:
Not long to go now. Both bridges are now operational, F&C East (Lock6) should be open from Mon.6th. and I am assured F&C West will open very soon.
Remember to book all boat movements outside main flotilla with SC in the normal manner.Boat movement should be able to take food bookings over the phone.
SC intend to contact all boats to confirm movement plans by Fri. 10th. but this will be expedited by prior booking.
IMPORTANT: May I remind all Skippers that boats must be equipped with LIFE-JACKETS for all working crew (helm,bowman), deployment optional.
Remember to decorate your boat (SC will have extra bunting available at TFW) and have music, preferably live, on board.
PROGRAMME: SC are preparing a final version of the full programme of events which we will post on the LCA website as soon as it is available.
FOOD: SC will be contacting all boats to confirm bookings. Enquiries from others requiring food tickets should be addressed to Josie Saunders at SC. <josie.saunders@scottishcanals.org.uk>.
SOCIAL: LCA members and other boaters unable to bring their own vessels will still be able to join in this event. Many boats will be prepared to take additional passengers on the flotilla sections, including possibly some space on the Courtesy Vessels; although you will need to make your own arrangements for connecting transport and accommodation.
With this in mind, can boaters let me know how much space they may have available and when so we can try to match like with like.
FRIDAY 24th. There will be a mini flotilla to Bonnybridge and back from TFW on Friday morning to celebrate official re-opening of the bridge. Boats already at TFW and able to turn west of Bonnybridge wishing to participate should contact Robin and/or Tommy Thomson at SC to register their interest. CANOES & KAYAKS interested in this, or any other part of flotilla should contact Robin<robinhedf@hotmail.co.uk> to let us know your intentions.
There is considerable pressure on space on the Wheel on Friday afternoon. Anyone who can arrive above wheel early on Friday or before the event will ease this. Those arriving late on Friday can expect to be held in upper basin until Saturday. Very late will risk being held above locks and put undue pressure on boat movement on Saturday. Please aim to be there by 16.00 latest.
SATURDAY 25th. Boats from the Western F&C intending to join flotilla above Lock20 on Saturday afternoon should plan to be at the Eastern end of Dullatur Marsh by 14.00 to assemble with F&CCS boat Gipsy Princess to await/join oncoming flotilla.
SUNDAY 26th. A smaller flotilla will depart Kirkintilloch on Sunday afternoon for Spiers Wharf in Glasgow for a more informal gathering organised by the LCA.
Those wishing to take part in this should contact Robin and SC Boat movement. Hopefully we will be together to avoid multiple openings of Bascule Bridge at Applecross St.
Lets hope for fine weather and a good turn-out from the general public to help the event go with a swing.
See you there.
Letter from Josie at Scottish Canal re Canal Carnival
The countdown to the Lowland Canal Carnival is on and we're looking forward to celebrating the re-opening of the Forth & Clyde Canal to sea-to-sea traffic with you.
In order to ensure the weekend's festivities run smoothly and everyone gets to where they need to be, we'll be calling you by the end of next week to discuss your transit and weekend plans for the flotilla – and to confirm which of the evening events you're planning to attend.
If you have recently changed your contact number, please email communications@scottishcanals.co.uk with up-to-date telephone details.
When we call you, we'll be taking advance telephone credit card payment for the Friday evening event at The Falkirk Wheel and the Saturday evening celebration at Auchinstarry Marina. Both evenings cost £10 each per person, with The Falkirk Wheel event including a delicious buffet meal, an alcoholic drink, and some fantastic entertainment with live music. The Saturday event at Auchinstarry will be a hog roast feast and a ceilidh.
The weekend's festivities will wrap up with a photocall at Kirkintilloch College Campus in the Canal Capital of Scotland on Sunday morning, followed by a drop-in lunch at The Kirky Puffer pub in the town centre for anyone who wants to come along. Tables have been reserved from 12:30pm onwards and payment will be required on the day, depending on what you choose to order. See the table below for an outline of the weekend's festivities.
As we expect the evening events to be particularly busy, places are offered on a first-come, first-served basis. We can't cater for you if you and your friends haven't paid in advance so if you're planning to attend, please do pay with a credit card over the phone when we call.
What we need from you:
Details of where and when you're planning to join and leave the flotilla so we can plan boat movements/staff
Confirmation of your attendance at the evening events for Friday and/or Saturday nights
Advance payment for you and your party of friends for the Friday night celebrations at The Falkirk Wheel and the Saturday evening ceilidh at Auchinstarry Marina
Confirmation of whether you plan to attend the photocall in Kirkintilloch on Sunday lunchtime
Confirmation of whether you plan to attend the Lowland Canal Carnival finale at The Kirky Puffer in Kirkintilloch on Sunday afternoon
Whether you prefer to leave The Falkirk Wheel early in the morning on Saturday or after lunch
Details of the size, composition and type of vessel
Confirmation of whether you are happy to raft up at some point during the weekend
If you know of anyone who would like to take part in the Carnival but has not yet registered, please ask them to email Robin Fryer via robinhedf@hotmail.co.uk
We look forward to welcoming you for what promises to be a fantastic weekend!
Date and Time
Location
Event
Friday 24 May

18:00 – Late

The Falkirk Wheel
Celebrations begin with recognition for volunteers for their ongoing contribution to the vibrancy of the canals over the years.

Food, drink and entertainment to be expected!

Saturday 25 May

09:30 kick off

The Falkirk Wheel
A flotilla of over 70 yachts, barges, steam boats, rowing boats, kayaks, canoes, and SUPs will leave the basin and will make their way towards Auchinstarry Marina
Saturday 25 May

18:00 – late

Auchinstarry Marina
More food, drink, and entertainment with a canalside ceilidh!
Sunday 26 May

10:30 kick off

Auchinstarry Marina
The final day of the carnival will see the flotilla depart Auchinstarry Marina and make its way towards Kirkintilloch, North Glasgow, and onto Bowling
Sunday 26 May

12 noon

Kirkintilloch College Campus
Photocall with as many boats as possible who make it to the Canal Capital of Scotland
Saturday 25 May

09:30 kick off

The Kirky Puffer, Kirkintilloch Town Centre
A table has been booked in the bar area under 'Scottish Canals'
Update – Canal Carnival Weekend
Just a wee update from the LCA Committee regarding the Canal Carnival preparation (last weekend of May 2019);
…and well done to Robin who is dealing with receiving registrations in a great manner…
Boats are continuing to register for the main flotilla although there is now some doubt about the participation of boats on the Glasgow branch due to proposed Bridge construction at Firhill.
We hope to have clarification of this issue at the next meeting of the organising committee on 22/02/19.
We have also had considerable interest from the Coastal Rowing Clubs, so it is hoped a flotilla of Skiffs will form part of the event.
We also have interest from the local Paddle-boarders and Scottish Canals are discussing participation of canoes/kayaks with the Scottish Canoe Association.
It is hoped everyone will make the effort to decorate their boats to create a Carnival atmosphere with music, buskers etc. With this in mind we are also looking for potential performers and boats willing to host them.
All interested enquiries to LCA info (info@lowlandcanalsassociation.org)
Canal Carnival Weekend
24th…27th May 2019 (from Falkirk to Glasgow…)
A celebrating Flotilla is being organised over the Spring Bank Holiday Weekend (24th/27th May 2019) to mark the reopening of the Forth & Clyde Canal since multiple bridges failures happened last year…
The aim of this gathering is to celebrate the reopening of the Forth & Clyde bridges and to illustrate the value of the canal network.
Lowland Canals Association (LCA) is proud of organising the Boating aspect of this large scale event and you are invited to join this fun and very special boats gathering!
Crafts of all shapes and form are invited to take part to this event (Canoes, Rubber dinghies, Barges, Sailing Yachts… anything that floats basically!).
This celebration should be punctuated with several social events along the way. The calendar should work as follow;
Fri 24th May; Gathering of boats at the Falkirk Wheel (+ social event)
Sat 25th May; Flotilla followed by a gathering at Auchinstarry (+ social event)
Sun 26th May; Flotilla followed by a last gathering at Kirkintilloch for Civic Reception at Council offices (+ social event)
Mon 27th May; Some salt water boaters and other participants completing the F&C crossing until Bowling…
As you understand, this great social event is a fantastic opportunity to engage Communities and Politicians in the Canal life…
A response to this invitation would be very much appreciated as we are trying to get up to 60 boats to move flawlessly through the network in Unison and present the best possible memorable show for the Public…
To register your intent please contact Robin Fryer (from the LCA Committee) at the following email address (robinhedf@hotmail.co.uk).
While registering, please state your; Boat name, length, beam ,Hull type and home mooring, along with your contact details.
Many thanks and hoping to get you along this special weekend of fun!